Latest Casino Bonuses
An American-British Odyssey
The Witches Brew was one of the best places to meet single women in Naples, FL. I went there one evening to have a drink, listen to music, and to dance. And I met Jill.
She was British and was in America on a Green Card. She was blond, had a marvelous laugh, and she was divorced. We felt an instant attraction and she gave me her phone number.
I was working as associate editor for LottoWorld, a national lottery magazine published in Naples. My evenings and weekends would be spent handicapping greyhound dogs at the Naples dog track or going on a cruise to nowhere out of Ft. Meyers.
I worked for a great managing editor named Barry Miller. He was a brilliant journalist who had two passions in life -- gambling and deep sea fishing. We shared many happy hours together doing both.
Jill and I began dating and found each other very compatible. When she suggested I move in with her, I hesitated for about three seconds before agreeing it would be a good idea.
I took her on one of the gambling cruise ships and she loved it. She was lucky at the slot machines and my game, of course, was poker.
Jill was planning to return to London where she had a home along the Thames River. I decided to give her a special treat.
'How would you like to travel across America with me and see the country?,' I suggested. 'My vacation is coming up and we could travel to Las Vegas.'
She smiled. 'That sounds WONDERFUL!,' she said.
We rented a motor home and set off across country. I laid out our route to take us through the deep South. We passed cotton fields in Alabama and Louisiana and observed commercial shrimp fishermen in their steel-hulled boats in places like Bayou La Batre and Lafayette, LA.
Jill marveled at the vastness of the country. As we motored through Texas and New Mexico, she commented, 'I feel like I'm in the real West with a real cowboy.'
I had made reservations for us at Sam's Town on Boulder Highway in Las Vegas. A country western band was playing as we entered the casino and we danced all the way to the hotel reservation counter.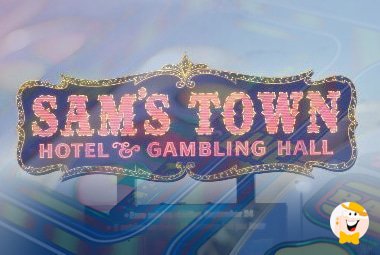 After we checked into our suite, we headed for the casino. Jill found a dollar slot machine and I sat down at a poker game. About an hour after I started playing, she rushed up to me with a big smile.
'I won -- $1,600,' she said excitedly. She dropped a $100 bill on the table. 'That's for taking me here.'
Less than 30 minutes later, she ran up to my table again. She had won another $1,600!
'This is marvelous,' she said in her incredible British accent. 'I can't wait to tell my friends in London about America and Las Vegas.'
We visited Hoover Dam and had dinner at the Mt. Charleston Restaurant while a hummingbird fluttered at the window next to our table. It was one of the best vacations I ever enjoyed.
Our stay in Las Vegas ended too soon. As we headed back to Florida, she rested her head on my shoulder and said, 'You're a damn good Yank.'
I gave her a hug. 'And you're a damn good Brit and a great slot player,' I said,